Life has been good lately. Last weekend went especially well. On Friday night, we went out for Kristin's birthday. First, Liz, me, Doug, and Laura took Kristin out to Macado's around 5:30 for Pop's Sundaes. It was fun and Kristin got sung to by the staff. :P We met up with some other people at Matt's after that and drove out to Floyd for bluegrass. I had a great time there. :) Nobody else danced that much, but Liz and I danced to almost every song up there. It was a ton of fun and we were very tired by the end of it at 10:30! We all drove back to Matt's house for a late strombolli dinner and watched the first half of War of The Worlds. We stopped it for cake, ice cream, and presents. By that time, it was like 1:30am or so. We decided to leave early and I took Liz and Kristin home.
Saturday I picked up Kristin at her dorm at noon and got Liz and we drove up to Charlottesville. Liz's wedding dress came in the morning, which was exciting. I didn't get to see it though! :P In CVille, we looked at some potential places to live and rules out most of them. It was a beautiful day and lots of fun. We left from there and got home in Sterling around 7. Had fun being with my family this weekend and getting to catch up with them a little. :) We had fun celebrating Kristin's birthday also.
Sunday Liz and I caught the late service at RBC and it was really good. I enjoyed the worship and Mike spoke a solid message on friendship. We spent the afternoon shopping/planning for the registry which was very tiring, but good. I had fun seeing Tim and Tony later in the evening when we went to Tony's house and watched the Grammy's with them. Another good thing about today was that Grandpa's old wedding band fits me perfect, so I'm going to use it. I think its quite an honor to get to wear his band. I hope God can help me in being a man like Grandpa.
Monday Liz and I met our real estate agent, Buffy, in Charlottesville. We looked at two townhouses that were high on hour list. It ended up that we didn't like the inside of our first choice very much, but we really liked the second one a whole lot. :) We talked about it throughout the evening and decided to settle on it the next morning. Buffy overnighted us the lease and I sent it back to her yesterday, so now we're officially settled into a new place! :) This is what is looks like: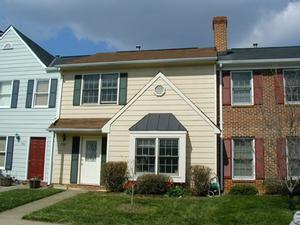 We're both really excited about it and can't wait to move in at the end of June! :-)
God has also been good in helping us with money until I start ny new job. Everything is working out just fine for that.
Another big thing completed this week is the honeymoon. I was able to find some more nice places and finalize all the plans for those two weeks in June. It should be a great trip and it came right in around my budget. :-)
I've really enjoyed reading my Exemplary Husband book. It's been great material and a big encouragement each day that I dig into it.
I'm also excited because the Dellingers are going to do our premarital counseling and that should be starting soon. It should be a lot of fun for all of us, and I'm glad to have somebody nice and familiar to do it with.
Also, I got my and the groomsmen's tuxedos figured out and ordered. I worked with a very nice lady in Charlottesville and I'm really excited about what we decided on. So, I'm glad to not have to worry about that anymore. :)
Oh, and I was stoked to get a 98 on my big Java project. I spent so many hours working on that thing and trying to perfect it. I'm glad all that work paid off! :)
So, yeah. It's been a pretty busy spring break, but it has been great to get lots of "life" activities completed. I should be able to devote a lot of my energy until the wedding to helping Liz more, doing schoolwork, and reading that book. :)
Cheers.